Commands and Permissions
Commands are one method in which server operators can administer their server, and in which players can interact with the server.
In Sponge, commands follow a system of Permissions. Permissions allow server operators to control who can access what commands. By default, all commands are granted to players with OP status. Players without operator status do not have access to administrative commands or commands that require an assigned permission node. A server operator can fine-tune who can access what commands by adding/negating permission nodes through a permissions plugin.
Note
Sponge is not a permissions-management plugin. To add and negate permissions for individual players or groups, you will need to find a permissions-management plugin.
Operator Commands
These commands, in addition to regular player commands, are available to server operators.
Player Commands
The following commands are available as part of vanilla Minecraft to players without operator status.
| Command | Description | Permission |
| --- | --- | --- |
| /help | View information on commands used on the server, by default the Sponge command will be used instead! | minecraft.command.help |
| /me | Tell everyone what you are doing. | minecraft.command.me |
| /say | Display a message to everyone (or, if using selectors, specific players). | minecraft.command.say |
| /tell | Privately message another player. | minecraft.command.tell |
A full list of vanilla commands can be found at: https://minecraft.gamepedia.com/Commands#List_of_commands. Permissions for vanilla Minecraft commands on a Sponge server are of the structure minecraft.command.<command>.
Command Features
Sponge and most Sponge plugins support additional command features such as auto completion and hoverable text. The image below shows the output using the /sponge plugins command (yellow box). The elements in that list can be hovered over to get addition information such as the current version number (red box). Some elements in the example below also have additional actions bound to them. For example, the plugin entries in that list can be clicked to show more detailed information (purple box) about that plugin. This is equivalent to sending the /sponge plugins <pluginId> command. The auto completion can be triggered by pressing tab. Entering /sponge plugins  (with a trailing space) and then pressing tab will show a list of possible values (turquoise box) that can be used in that context. Pressing tab again will iterate the possibilities, if any. Theoretically it is possible to write most commands by pressing only tab and space (and maybe the first letter of each segment).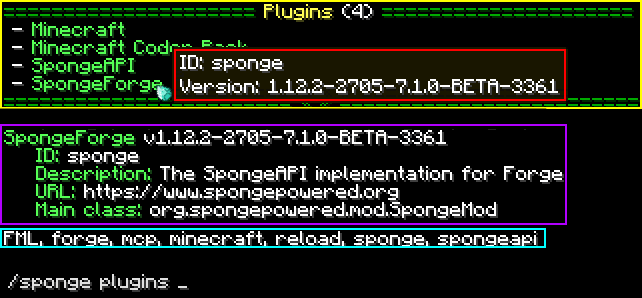 Tip
If you are a plugin author and you want to use hoverable text and text actions in your plugin, then head over to our Text documentation.